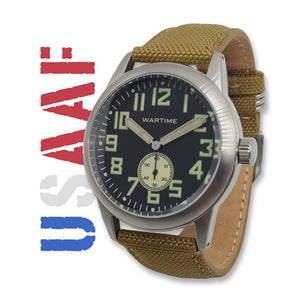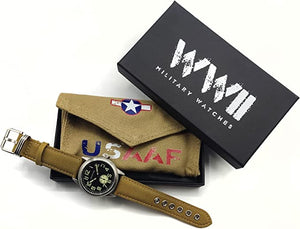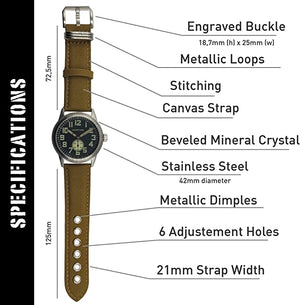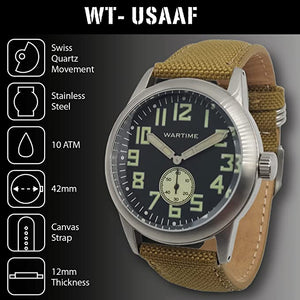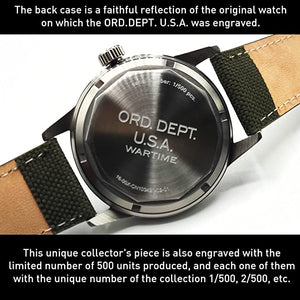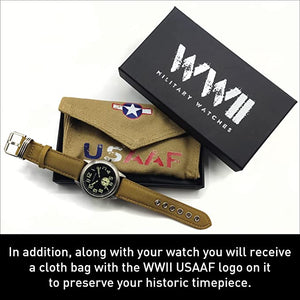 WW2 Military Watch – Vintage USAAF Watch Black, Swiss-Quartz Movement with Canvas strap and leather lining, 10 ATM Water Resistant. The Perfect WW2 Memorabilia. Mens Watches for Ever
History in Your Hands: The WT-USAAF Swiss quartz military watches for men is a collectible piece that should not be missing from your display! Following closely the model developed by Waltham in 1942, these watches are similar to those worn by the Air Forces of the United States of America soldiers during World War 2. Waltham expertise in the aviation sector took the company aboard the most iconic aircraft of the time.

Vintage Design with Modern Technology: Following the initial model closely, this military watch features a swiss quartz movement Ronda 1069. Beveled mineral glass, a durable canvas strap with leather lining,  42mm (1 21/32") stainless still case, matt finish. Steel back case engraved with original marks. Water Resistant (10 ATM). A Military Watch that was designed to survive the terrible conditions of the WW2 trenches. A beautiful combination of elegance and durability that will not let you down.
Collector's edition - Expand your collection display by adding similar watches to those operated (worn) by the real protagonists during World War II. Each watch tells the story of a country's soldiers and the tragedy of war. Engraved: ORD. DEPT. U.S.A. (Ordnance Department). During WWII U.S Army personnel were issued with watches by the "ORD DEPT". In 1940, the Ordnance Department published the specific requirements and specifications for military watches.
Numbered and limited Edition: The WT-USAAF steel military watch for men is engraved with a unique code corresponding to the series of the collection. Limited series of only 500 pieces. This way, you get to enjoy a superb piece that not many people are lucky to have.

Gift Box Included - Receive your watch protected by a nice cloth watch pouch, which comes inside a luxurious box (6 11/16 x 3 47/64 x 1 In). Perfect to give as a pleasant surprise to a loved one. All package includes a brief description of the watch's history, technical features and the factory warranty.
---
---