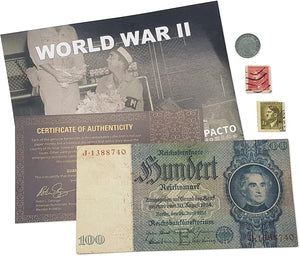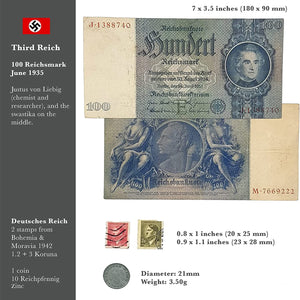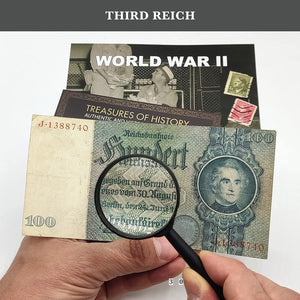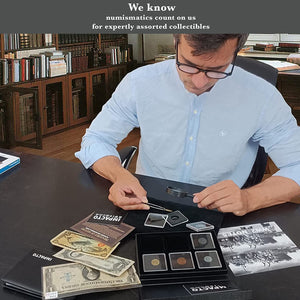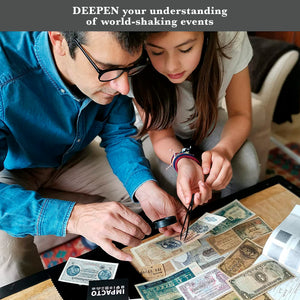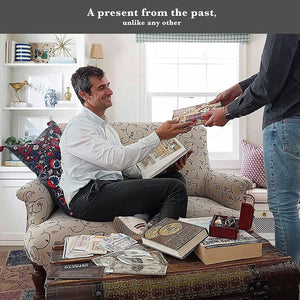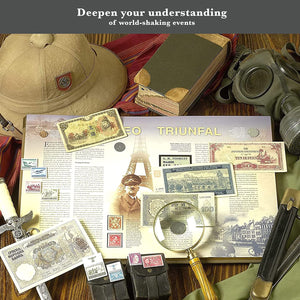 WWII German Third Reich Collection - 100 Reichsmark note + 10 Reichspfennig coin + 2 stamps from Bohemia. Certificate of Authenticity included
A genuine piece of World War II history. The set start with a 100 Reichsmark banknote issued in 1935 and was the first German note to depict the swastika – which became a propaganda tool in Nazi Germany. 2 stamps issued in Bohemia & Moravia in 1942, a protectorate of Nazi Germany composed mostly of the territories of the present-day Czech Republic. And to finish the set of the Third Reich a 10 Reichspfennig coin. Even though the Nazis had been in power from 1933, it wasn't until 1936 that the low denominations of the Weimar Republic were withdrawn to incorporate a clearly identifiable Nazi design, which included the Hakenkreuz or Swastika on a coin.
History in Your Hands – Hold and study genuine WW2 memorabilia that was there during one of humanity's most trying times. Your collection of banknotes is a connection to real lives and untold stories

Museum Monies

 – 

2 years after Hitler came to power, the first 100 Reichsmark banknote (180x90mm) is issued in 1935 with the swastika printed on it. Includes a 10 Reichspfennig coin and 2 stamps issued in Bohemia & Moravia.

Inspected by Experts – Each unit of paper money, coin and stamps you receive is carefully inspected by a member of the American Numismatic Association. Your collection come with a printed certificate of authenticity.

This is a unique collection, which was made possible by many years of collection around the world, by various specialized fairs. Limited units

The Impacto Mission – Trust us for exciting collections of historical banknotes and coins for collectors, historians, and professors. Your banknotes are backed by our pursuit of numismatic excellence.
---
---