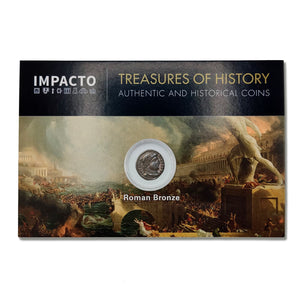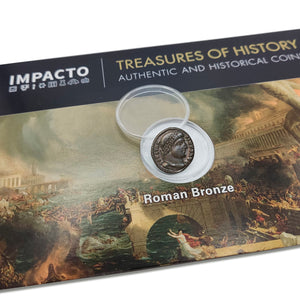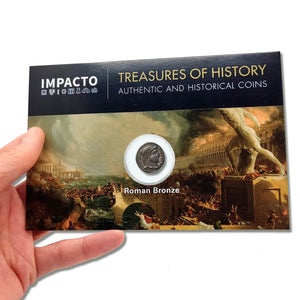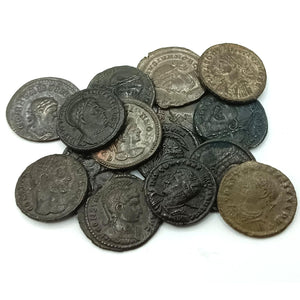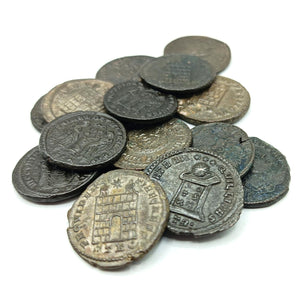 Ancient Coins - Roman Empire, 1 Original Coin of Constantine I the Great, the First Christian Emperor - Includes Certificate of Authenticity
History in your hands - Authentic Original Follis of more than 1.700 years old, minted in bronze with an approximate weight of 4g, and a diameter of 20mm. Hold and study original pieces from the History of the Roman Empire. This coin is a connection to real lives and untold stories.


Museum Coins - The follis was a coin of Ancient Rome introduced around 294 during Diocletian's monetary reform. The word follis means "pouch", usually made of leather, and there is evidence that this term was used in antiquity for a sealed pouch containing a certain amount of coins.


Expertly inspected - Each original coin you receive is carefully inspected by a member of the American Numismatic Association, who issues a Certificate of Authenticity that accompanies your coin along with the Collector's Blister.


Capsule and Blister included - Your coin is hermetically sealed in an individual numismatic capsule for proper preservation, and presented in an elegant 180x120mm black blister pack. The perfect gift for coin collectors and history lovers.



Discover our Passion - Let us help you create a collection of original coins and banknotes that even the Kings would envy. With over 20 years of experience behind us, we offer more than 200 different collections, each with the hallmark of numismatic excellence.
Flavius Valerius Aurelius Constantinus was born on February 27, 272 and died on May 22, 337. He was Emperor of the Romans from July 25, 306 until his death. He is known as Constantine the Great.

He legalized the Christian religion by the Edict of Milan in 313 and is also known for having re-founded the city of Byzantium (present-day Istanbul, in Turkey), Constantinople (Constantini-polis; the city of Constantine). He convened the First Council of Nicaea in 325, which granted legitimacy to Christianity in the Roman Empire for the first time. This is considered essential for the expansion of this religion, and historians present him as the first Christian emperor, although he was baptized when he was already on his deathbed.

Although Christianity would not become the official religion of the Empire until the end of that century (a step that would be taken by Theodosius in 380 with the Edict of Thessalonica), Constantine gave great power to the Christians, a good social and economic position to their organization, granted privileges and made important donations to the Church, supporting the construction of temples and giving preference to Christians as personal collaborators.

*Since all the pieces are authentic and original, they are different from each other and may vary from the reference image.
---
---