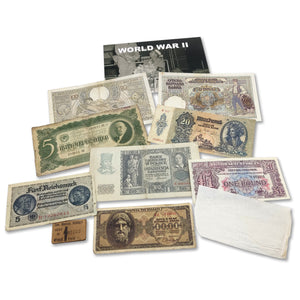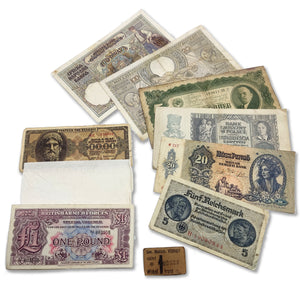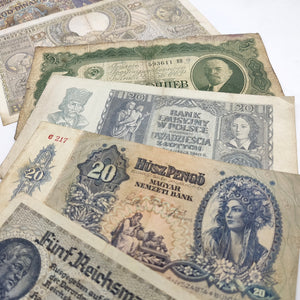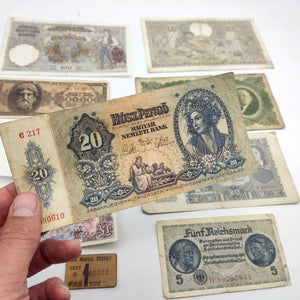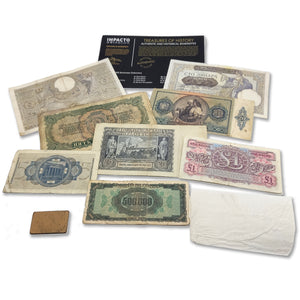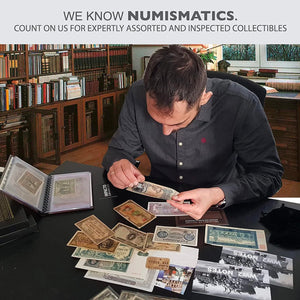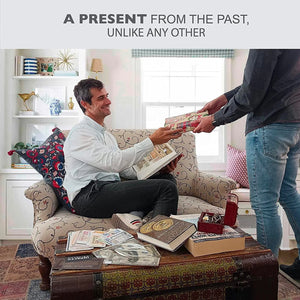 WW2 Banknotes
10 circulated Original Banknotes issued during World War II in Europe, with Certificate of Authenticity
History in Your Hands – Hold and study genuine WW2 memorabilia that was there during one of humanity's most trying times. Your collection of banknotes is a connection to real lives and untold stories. German banknote used in the invasions, Polish, Hungarian and Greek banknotes issued by the occupying German governments, Russian 5-ruble banknotes, as well as British banknotes used by the troops, are some of the banknotes in the collection.
Museum Monies – Expand your historical exhibit or display with money handled by real people around the globe during World War 2. The collection includes a faithful reflection of the different territories that have participated. We make special mention of one piece of the collection: In 1940, a company owned by the Bank of England, had made this special paper with watermaks of King George VI, to mint Indian notes, but they never reached their destination.
A unique collection - The preparation of this collection has been possible thanks to the continuous search for World War II banknotes at various specialized fairs by our numismatic experts. As these are original pieces, no set is equal to the other with respect to the quality of each one of the banknotes, although we have tried to have an average quality of each one of them.
Inspected by Experts – Each unit of paper money you receive is carefully inspected by a member of the Company, and subsequent to the technical report a certificate of authenticity has been issued. 
The Impacto Mission – Trust us for exciting collections of historical banknotes and coins for collectors, historians, and professors. Your banknotes are backed by our pursuit of numismatic excellence.
---
---