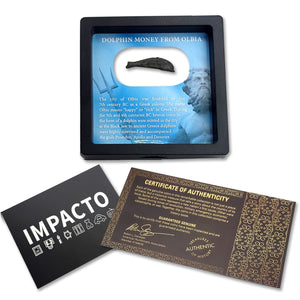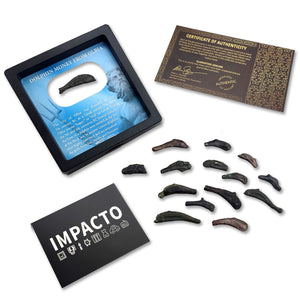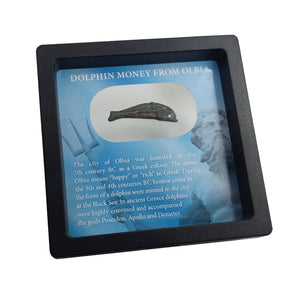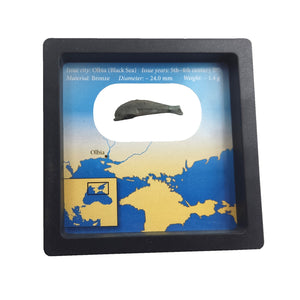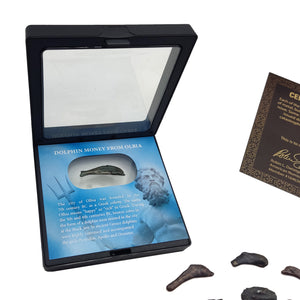 Coins
Original Dolphin Greek Coin in a Coin Display Frame - Rare Coin Issued Between 5th-4th Century BC
History in Your Hands – This piece of dolphin shaped currency is from the Greek colony of Olbia, located on the northern coast of the Black Sea in modern day Ukraine. Dolphins had an important role in Greek mythology, and the bottle-nosed dolphins that swam in the Black Sea were likely the inspiration for Olbia's uniquely shaped currency.

Rare Coins – The dolphin "coins" are an example of proto-money, which refers to any commodity that all people in an early society agreed to accept in trade. This could include shells, rings, or other small objects that were easy to find or manufacture in large amounts. It is speculated that the Olbians minted these unique coins based on their everyday experiences with dolphins. No doubt this is one of the most interesting and unique coinages of the Black Sea area.

Coin for Collectors - The Olbia dolphin coin was minted in bronze and has an approximate diameter of 1 inch (24 mm) and an average weight of 0.05oz (1.4g). Some of the coins had inscriptions, while others did not. In some cases, it is believed that the inscription indicated the monetary value of the coin, while in others it represented the name of the issuing authority.

Inspected by Experts – Each dolphin you receive is carefully inspected by a member of the company's team of numismatic experts, which allows us to ensure the authenticity of each piece. A unique piece which was made possible by many years of collection around the world, by various specialized fairs.

Important information - As this is an original coin, each one is unique. The pictures shown are a reference for the customer, but do not match the dolphin you will receive. Each Dolphin is presented and stored in an individual Coin Display Frame (3.5 x 3.5 x 0.8 inches) and includes an illustrative card with basic information about the piece. The perfect gift for Coin Collectors and lovers of History.
---
---