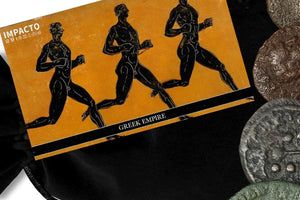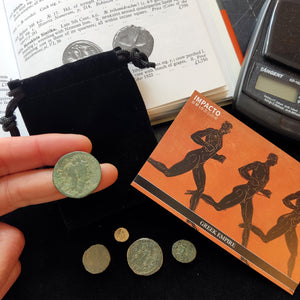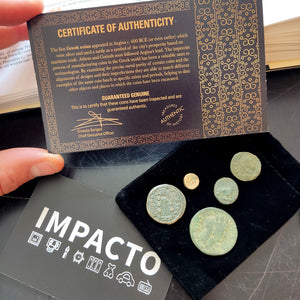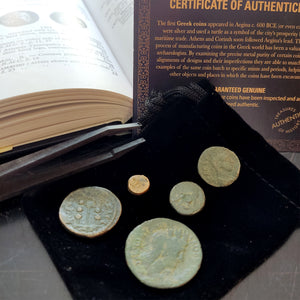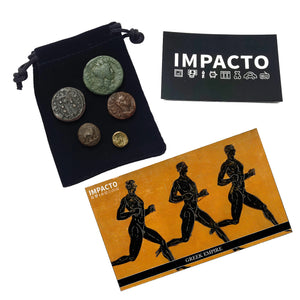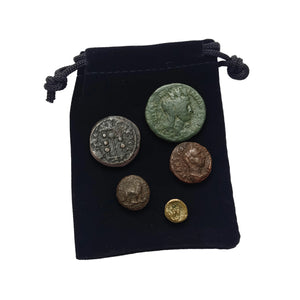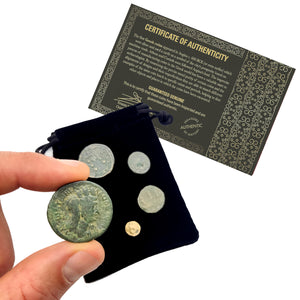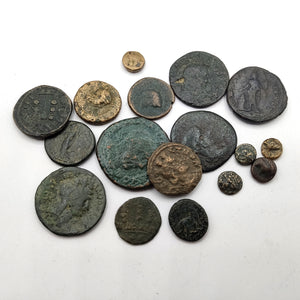 Coins
5 Original Greek Empire Coins in a Coin Grab Bag - Rare Coins of Heroes, Gods and Polis - Limited Coins Collection
5 historical coins in a velvet bag

History in Your Hands – Hold and study genuine Greek Empire coins that was there during one of the largest empire in the world, with contiguous territories throughout Europe, North Africa, and the Middle East. These 5 Coins are a connection to real lives and untold stories. An Amazing piece of history for an amazing price

Rare Coins - This historical collection contains 5 authentic coins that marked important milestones in history. The set of 5 coins was minted more than 2,000 years ago. They include various preservations and are mostly strongly circulated.Their diameters vary between approximately 1 and 0.3 inches and an approximate weight of between 0.4oz and 0.02oz of the smallest coin.
Coins for Collectors
 - 
All Greek coins were 
handmade
, rather than machined as modern coins are. The designs for the obverse and reverse were carved into a block of bronze or possibly iron, called a die. Each collection includes a certificate of authenticity and a short introduction to the coins in Greek times.


Inspected by Experts – Each coin you receive is carefully inspected by a member of the company's team of numismatic experts, which allows us to ensure the authenticity of each piece. A unique collection which was made possible by many years of collection around the world, by various specialized fairs. The coins have been carefully selected, which are of very good quality and nice condition.
The Impacto Mission – Trust us for exciting collections of historical banknotes and coins for collectors, historians, and professors. Your coins are backed by our pursuit of numismatic excellence.
---
---