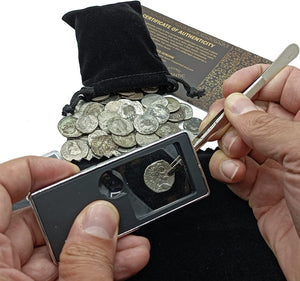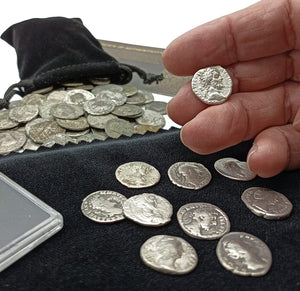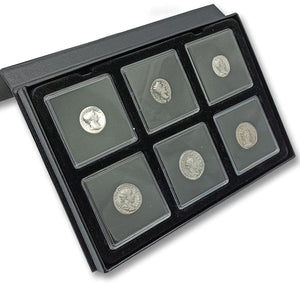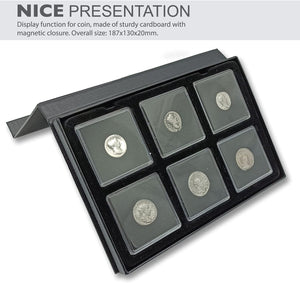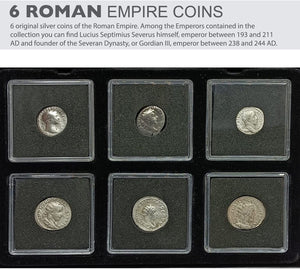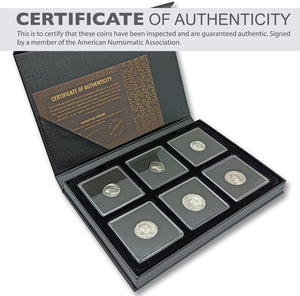 Ancient Coins, 6 Denarii and Original Double Denarii from the Roman Empire 138 AD to 253 AD. - Collector's Edition
ORIGINAL JEWELRY: Authentic silver denarii and double denarius of the Roman Empire minted between A.D. 138 and 253, the coins in this historically momentous compilation are at least 1,800 years old. With each coin, you are getting a living piece of history.


THE GLADIATORS' MONEY, GIVE THE GIFT OF HISTORY: This collection is specially designed for history buffs. The coins minted by the Roman Empire are characterized by the images of their emperors and the so-called allegories on their reverse sides. 6 original pieces, each of them with a very special story.


A SMALL MUSEUM IN YOUR HOME: Among the Emperors contained in the collection you can find Lucius Septimius Severus himself, emperor between 193 and 211 A.D. and founder of the Severan Dynasty, or Marcus Aurelius, father of Commodus and the last of the Five Good Emperors.


CERTIFICATE OF AUTHENTICITY: Each of the 6 original coins are authentic and were selected by a numismatic expert who has acquired them after many years visiting specialized fairs in different European countries. The collection includes a Certificate of Authenticity issued by an independent expert member of the American Numismatic Association, with his license number 164636.


GIFT BOX: To make this collection the perfect product, as a gift you will receive a sturdy cardboard box with magnetic closure to keep the Silver coins in. Additionally it can be used as a presenter to present the collection. The outer dimensions are 187 x 130 x 20 mm, and a space inside to place 6 numismatic capsules of 50x50 mm.


*All the pieces are authentic and original, they are different from each other and may vary from the reference image.
---
---