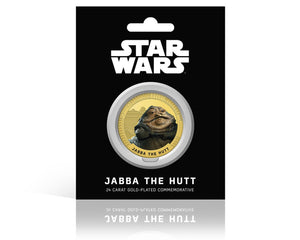 Star Wars Trilogía Original Episodios IV - VI - Jabba - Moneda / Medalla conmemorativa acuñada con baño en Oro 24 quilates y coloreada a 4 colores - 44mm
Star Wars (conocida también en español como La guerra de las galaxias) es una franquicia compuesta primordialmente de una serie de películas concebidas por el cineasta estadounidense George Lucas, y producidas y distribuidas por The Walt Disney Company a partir de 2012. Su trama describe las vivencias de un grupo de personajes que habitan en una galaxia ficticia e interactúan con elementos como «la Fuerza», un campo de energía metafísico y omnipresente que posee un «lado oscuro» provocado por la ira, el miedo y el odio.


Jabba The Hutt es el gángster más poderoso de la galaxia con una recompensa para Han Solo.

Moneda / Medalla conmemorativa acuñada con baño en Oro 24 quilates y coloreada a 4 colores - 44mm

Cada pieza incluye el renombrado logo de Star Wars en el anverso

Producto oficial y exclusivo Star Wars
---
---