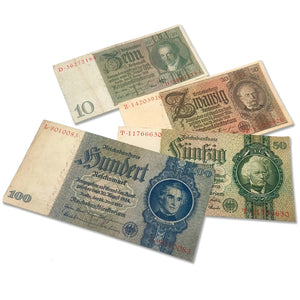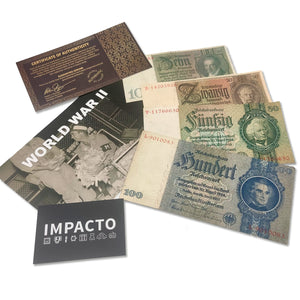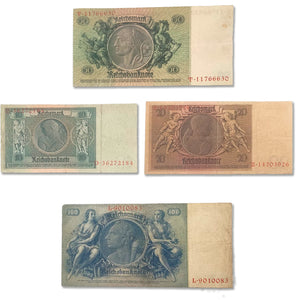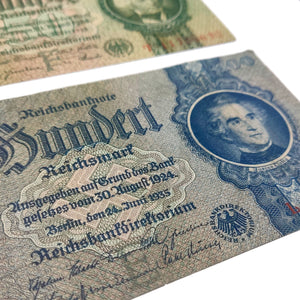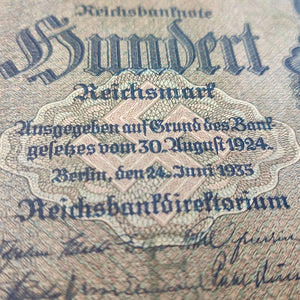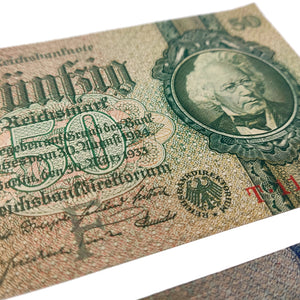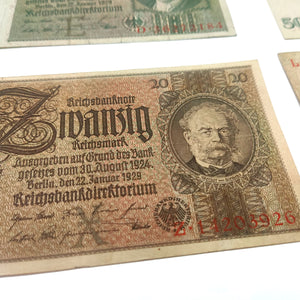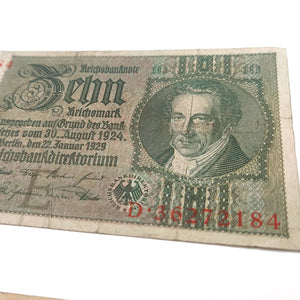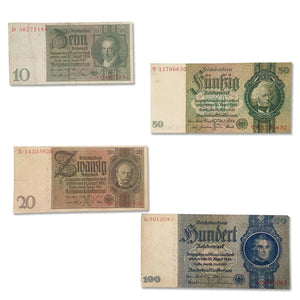 Four WWII German Reichsmark Notes dated 1929, 1929, 1933 and 1935. Certificate of Authenticity included
History in Your Hands – Hold and study genuine WW2 memorabilia that was there during one of humanity's most trying times. Your collection of banknotes is a connection to real lives and untold stories.
Museum Monies
– 
4 banknotes issued between 1929 and 1935 were the banknotes used during the Second War by the German population until the end of the war. 10 Reichsmark, 20 Reichsmark, 50 Reichsmark and 100 Reichsmark (150x75m, 160x80mm, 170x85mm, 180x90mm). The larger value from 1935 include the swastika design.
Inspected by Experts – Each unit of paper money you receive is carefully inspected by a member of the American Numismatic Association. Your banknotes come with a printed certificate of authenticity.
This is a unique collection, which was made possible by many years of collection around the world, by various specialized fairs. Limited units
The Impacto Mission – Trust us for exciting collections of historical banknotes and coins for collectors, historians, and professors. Your banknotes are backed by our pursuit of numismatic excellence.
A genuine piece of World War II history, with this 4-note set. Issued from 1929-1935 under the Third Reich, these notes recall a tumultuous era in world history – Adolf Hitler's rise to power. Each piece depicts an important German figure:
10 Reichsmark – scientist Albrecht Thaer
20 Reichsmark – inventor Werner von Siemens
50 Reichsmark – businessman David Hansemann
100 Reichsmark – chemist Justus von Liebig
This 100 Reichsmark was the first German note to depict the swastika – which became a propaganda tool in Nazi Germany. Each piece in the set features an ornate design on its back. These Extra Fine or better notes were all issued over 80 years ago, and make a unique gift for history buffs.
---
---