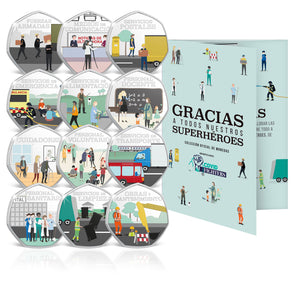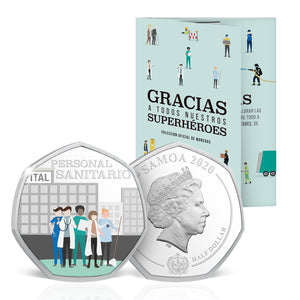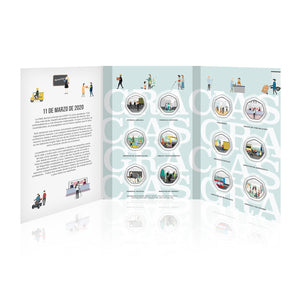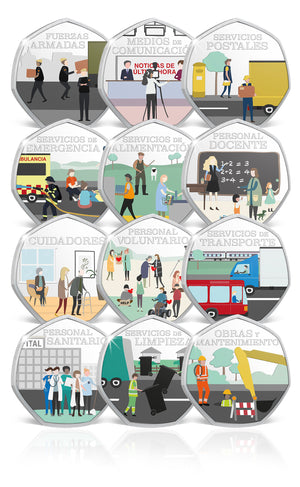 World Coins Collection
THANK YOU! To all our Superheroes - Complete collection
To thank them for their indispensable work during this health crisis, we have created this
100% solidarity
coin that recognizes their efforts during the pandemic. Because without them, this situation would have been much more difficult.
Description of the coin
Diameter: 28,5mm - Weight: 8g - Issuing country: Samoa Face value: 1/2 Dollar - Finishing: Proof - Plating: Pure Silver .999
Limited edition: 250 units
March 11, 2020
WHO declared the COVID-19 outbreak a pandemic. Three days later, Spain declared a State of Alarm. We were facing an unthinkable situation. Chaos, fear and uncertainty were spreading as fast as the virus.
We had only one certainty, only by staying at home would we be able to stop it. Schools brought forward the end of the school year, stores, bars and restaurants closed, industry and tourism came to a standstill and the 8:00 p.m. appointment to applaud the great work of the health workers on the balconies became the only social contact with the outside world.
The pandemic has taught us to appreciate the little things in life, and especially the workers, the Superheroes, of this health crisis. All those who in one way or another from the beginning, and day by day, have fought on the front line of the battle against the virus. Health workers, Security Forces and Corps, employees of supermarkets and food stores, transporters, deliverymen, pharmacists, essential cleaning services, media, teachers... All of them have been working for and with all Spaniards from the first day.
What is "COVID Fighters" and what is its work?
We are a non-profit project that seeks funds to help in this situation of global health emergency in which we have been immersed. A situation of fear, chaos, devastating figures but in which there is also hope, a great spirit of solidarity and a desire to help, no matter what, above all.
---
---